Clywedog run 13/5/06
Doug McCusker put together another highly successful run on Sunday 14th May. Although the weather looked unpromising and put some people off, four intrepid se7ens did turn turned up at Mile End: Doug and his passenger, Steve Richards, Stephen Hinchliffe in the very impressive F27 KR Roadster, Mike & Jayne Yeomans in the Tiger Avon and the Browns in the Birkin. The route took us across to Machynlleth and then the drive down to and around the Llyn Clywedog was absolutely stunning.
Mike and Jayne definitely enjoyed it!
"What a great day. The first main run for the car and first of many runs for Jayne, she loved it. The second stop of the day (the first was for petrol and coffee) was at the Winford Vaughan Thomas Viewing spot, the views were fantastic although a little cloudy at times. At least it stayed dry. At last, lunch time - not exactly a three course pub lunch, there wasn`t a pub for miles, but the view made up for that. The next stop was to look at the very impressive Clywedog dam. We were out for about 5 hours and although it was overcast we still got sunburned. It was a great day.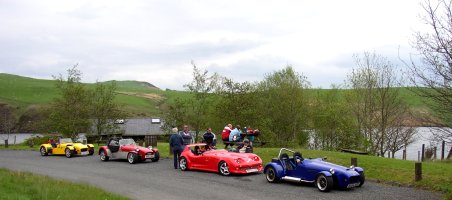 Lunch stop at the lake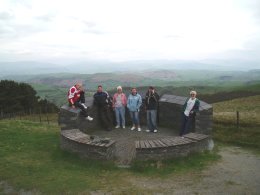 At the viewing point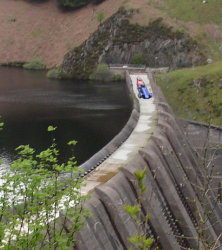 Only joking